Nathalie MORRIS
Graduate from "Centre de Recherche, d'Etude et d'Enseignement des Réflexologies (C.R.E.E.R.), Paris Graduate from Ecole Elisabeth Breton                                                                                                            Graduate from Mireille Meunier academy
Member of the French Federation of Reflexologists: www.reflexologues.fr
Member of Amavie, Syndicate of Alternative Medicines in France: www.amavie.fr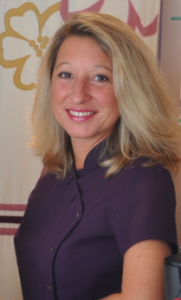 Formerly Director of Communications at a public relations agency in Paris, France, Nathalie Morris trained in leading French reflexology academies, all recognised at European levels : C.R.E.E.R. in Paris, Ecole Elisabeth Breton and Mireille Meunier academy.
She is a qualified practitioner in therapeutic foot reflexology. She also trained and qualified in Skull and Facial Reflexology, on Knap Points (a technique based on osteopathic practice) as well as Back Reflex Massage .
Passionate about stress-management therapies and accompanying people on the path to well-being and relaxation, Nathalie's reflexology skills focus on improving well-being, relieving stress and pressure, maintaining and restoring balance and the prevention of illness. She also accompanies people who are suffering from serious illness, offering both physical and emotional support through the alternative and natural therapy of Reflexology.
Whatever the reason why you considered a reflexology treatment, Nathalie will work in partnership with you and will help make a difference towards your well being.
Nathalie is available for consultation in Saint-Louis in Alsace, France (68300), Huningue (accessible with tram 8, direction Weil am Rhein) and in Leymen (direct access from Basel on Tram 10).
" Reach out to someone's feet and you'll reach their soul " – Chinese Proverb.